Register Today!
Don't let your kids go all summer without learning! Register them for Lincoln Children's Museum summer camps and they are guaranteed to make out of school days fun and full of learning. While all camps include exclusive playtime before the Museum is open to the public, the majority of camp time is spent on the Museum's third floor designed just for making messes, friends and memories. Camps are separated by school grades to provide personalized experiences. Check out the exciting topics listed below.
Grades Pre-K (4-5); K-1st; 2-4th*
*Campers must have completed the grade and be toileting independently. 
Full Week Summer Camps
Members: $170; Non-Members: $195
Summer Day Camps
Members: $45*; Non-Members: $60*
Know a friend who you think would love camp? $10 gift card to be used on a camp or event for each friend you refer. If that friend books a camp, they can enter your name under "referred by" on the registration.
*Discounts apply for purchasing four or more days in one week
Did you love camp so much that you want to come back? $10 off your next camp booking if you rebook directly following an attended camp!
8:00 a.m. - 5:00 p.m. (Check-in 8:00 - 8:45 a.m.; Check-out 4:30 - 5:00 p.m.) Campers should bring a sack lunch; no nuts, please! If your child would like an extra snack during the day, please pack one accordingly.
NOW OFFERING HALF DAY MORNING SESSIONS FOR PRE-K! Morning sessions for 4-5 year olds will be from 8:00 am to 11:30 am each day when regular camp is offered. Click on Pre-K to see both options and pricing.
Camp Classrooms are located on the 3rd floor of the Museum. 
If you have questions about anything camp related, please email camps@lincolnchildrensmuseum.org 

Downloadable summer camp schedule: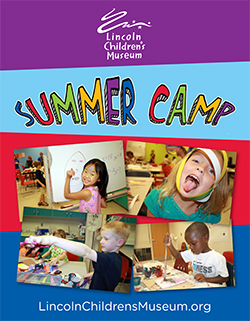 NEW! Half-Day option for all Pre-K camps. Limited registrations available.
Schedule
---
July 24-28: Passport to Fun
You'll start the week with a blank passport but as you experience a different culture each day, you'll get a stamp!  Fill up your passport with stamps as we meet visitors all week from different nations who teach us about their home!
Register:



---
July 31-Aug 4: Movie Makers
Get your Oscar acceptance speech ready!  We're providing the makings for you to have fun starring in your own movie with your camp friends!  There will be a red-carpet viewing ceremony to cap off this star-studded camp experience.
Register:



---
Aug 7-11: Build It - Bust It
Think blocks are the only thing you can build with at camp?  Think again! Cups, pretzels, newspapers, gum drops, legos, pool noodles, aluminum foil and more!  Each day a new building challenge and of COURSE what goes up, must come down!
Register: