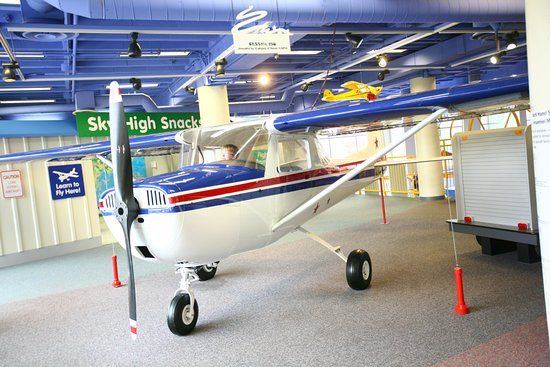 Lincoln Children's Museum is pleased to announce the removal and refurbishing of its long standing exhibit, a full-sized Cessna currently located on the museum's upper level.  Duncan Aviation, the company that donated the plane, will begin the daunting process of removing the aircraft piece by piece on September 16.
Darwin Godemann, Master Tech Airframe Onboarding Coordinator for Duncan Aviation said, "This project will be a challenge! When the aircraft was first placed in the museum, the East windows had not yet been installed, which allowed for relatively easy access to the second floor to place the exhibit. Now, we will have to disassemble the aircraft in the museum, carry it out in pieces and reverse the process when we are done refurbishing the aircraft. Luckily, we have some very creative technicians that actually enjoy a challenge."
"Our Cessna is a popular museum exhibit that inspires future aviators to explore and learn more through the power of play. We are excited to see the new changes and will invite the community to view its unveiling once completed," said LCM Executive Director, Tara Knuth.
Duncan Aviation's plans are to modify the aircraft to have a smaller footprint in the museum while giving the participants a better sky view as if they were flying in the plane.
Update: Video of Plane Removal