Fall 2019 Museum Camps
Guaranteed to make days out of school fun and full of learning, these special camps are offered when LPS is out of session during the school year. While all camps include exclusive playtime on Museum exhibits before the Museum is open to the public, the majority of camp time is spent on the Museum's secret third floor designed for making messes, friends and memories. Camps are separated by school grades to provide personalized experiences, with a 1:10 paid staff to camper ratio in the building and 1:5 on field trips.
Age 4 through fourth grade (2019-20 grade)
Full day: 7:30 a.m. - 5:30 p.m.
Half-Day: 7:30 a.m. to 11:30 a.m.
Campers should bring a sack lunch, no nuts please! Register for individual days to suit your family's schedule.
If you have questions about anything camp related, please email camps@lincolnchildrensmuseum.org 
Click More Info below to download detailed camp information and permission forms.

Prices for School Out Camps
Members: $45 per day per camper, $25 half-day
Non-members: $60 per day per camper, $30 half-day
---
Thanksgiving Break - A Pirate's Life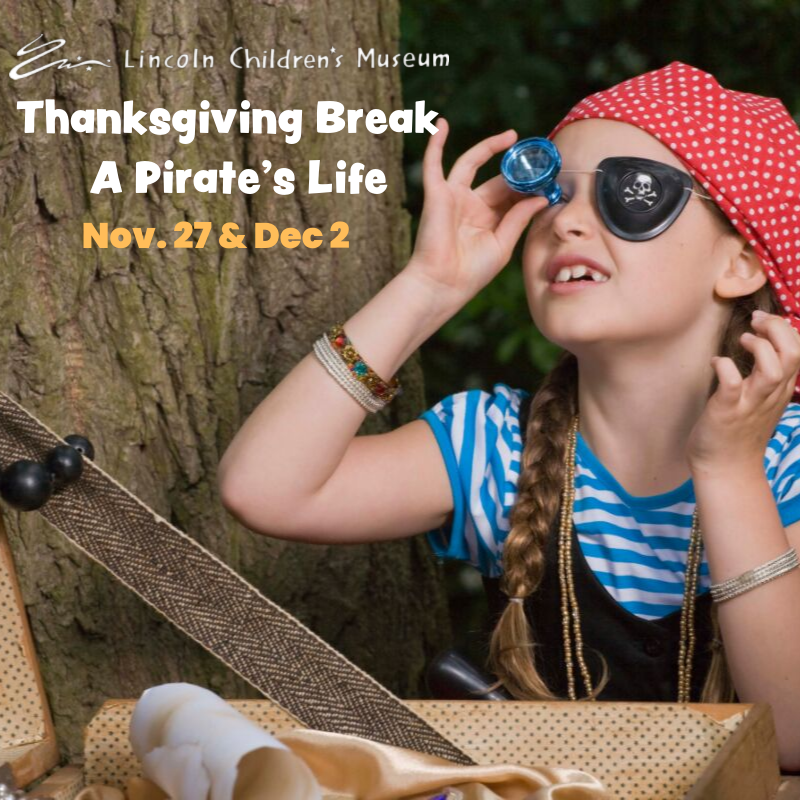 Become a Pirate-In-Training (or a PIT), and have some swashbuckling pirate fun this Thanksgiving break through using maps to find lost treasure, creating pirate disguises, capturing the pirate flag, and survive the cannonball obstacle course!
---
To check out the Winter 2019-20 camps, click here!