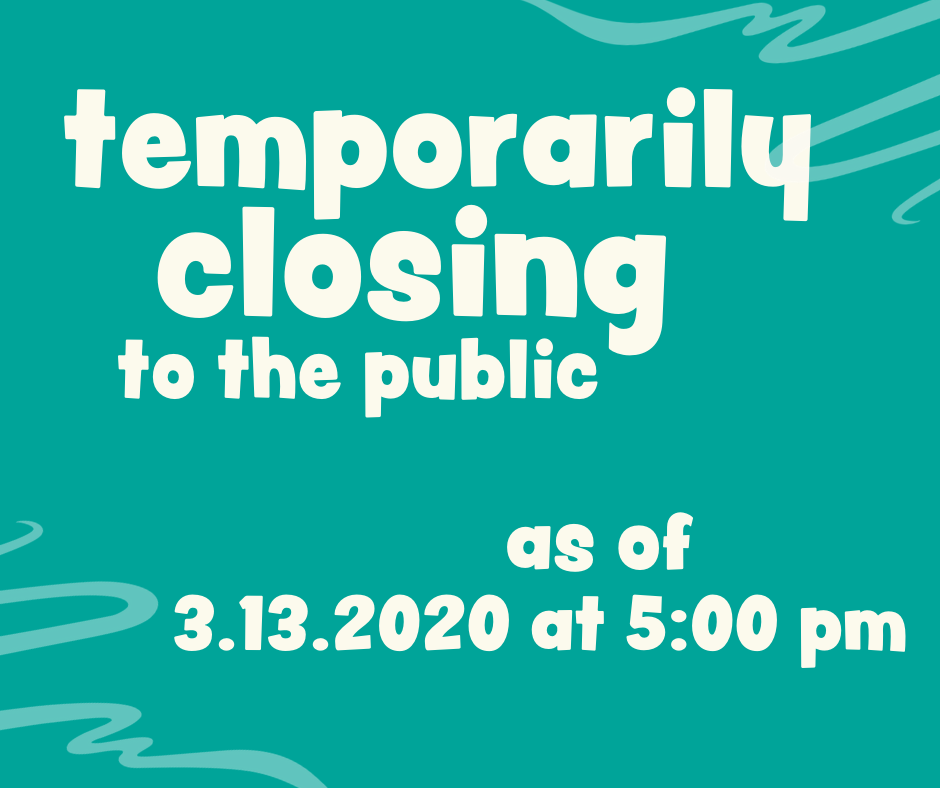 LCM Closes Amid Coronavirus Precautions
We recognize the emerging need to implement social distancing practices in order to minimize the spread of Coronavirus via public spaces.  To focus on the health and wellbeing of our visitors and the entire community, the Lincoln Children's Museum will temporarily close to the public until further notice as of 5:00 pm, March 13th.  We will remain closed as we monitor this developing situation.
Specific Programming Information:
-      Memberships:  The museum will be extending current memberships by the number of days we remain closed.
-      Events: All upcoming museum sponsored events are postponed with the intention of rescheduling later in the year.
-      Camps: As the situation unfolds, we will keep families updated on our plans for camps on April 10th, 13th, and beyond.
-      Birthday Parties, Field Trips, and Private Rentals: Families and organizations with current reservations will be contacted directly with more information.
We are hopeful that with the multitude of community actions, this will have a positive impact in slowing down the spread of Coronavirus so that we can all gather together again soon for fun.
Please watch the Lincoln Children's Museum website and Facebook page for additional information.
Cost of Admission
Children 0 - 18 Months:   FREE 
Children 18 Months - 15 Years:   $10.95*
Adults 16 Years and above:  $9.95*
*Plus Tax
Members:  FREE 
Have so much fun you can't wait to come back? You can apply the amount you spent on admission to the purchase of a membership within a week of your visit. Membership is less than the price of a year of Netflix, and so worth every penny!
Find out more about our memberships here. 



---
Hours of Operation
Sun:   Temporarily Closed
Mon:   Temporarily Closed 
Tue:   Temporarily Closed
Wed:   Temporarily Closed
Thu:   Temporarily Closed
Fri:   Temporarily Closed
Sat:   Temporarily Closed
Closed for the following Holidays:
Easter Sunday            Thanksgiving Day          Christmas Eve            Christmas Day         
*New Year's Eve: Only Open for Special Ticketed Event, Make-Believe Midnight
Members Only Hour
Join us Tuesday mornings at 8:30 am for Members Only Hour before the Museum opens to the general public. Bring your little ones after you drop the older ones at school and enjoy a quieter and less crowded Museum experience just for member families!
---
Location
Street Address: 1420 P Street, Lincoln, NE 68508
Located in the beautiful 'P' Street District of Downtown Lincoln, the Museum's impressive three-story building with fun architecture and bronze statues is hard to miss.  Adjacent to the green space and fountains of Centennial Mall and within walking distance to many family-friendly restaurants and museums, Lincoln Children's Museum is a great starting point to explore downtown. The famous Nebraska State Capitol and University of Nebraska are also within close walking distance. 
Click here to see what else Downtown Lincoln has to offer.
---
Parking
City parking is available around the Museum. The first hour of parking is free in the parking garages. Many meters can be paid with coins, credit card, or the Passport mobile app (the Museum does not validate parking). Visit ParkAndGo.org for more information.   
Closest Parking Garages:
University Square
Located at 14th & 'P' Street
Access via 14th Street
Larson Building
Located at 14th and 'Q' Street
Access via 'Q' Street
Call the Museum for school/tour buses parking information. Lincoln Children's Museum does not validate parking.
If you have any questions about Hours, Admission, or Location, please email info@lincolnchildrensmuseum.org or give us a call at (402) 477-4000.