A Place for All
Lincoln Children's Museum is a place for every child to experience the power of play. Some kids may need modifications to have their best day here, and we want to provide whatever tools we can. 
If a child needs a quieter spot, Grow Zone is available for them. The mother's room on the main floor is also great for this, with dimmable lights and sound machines. If these are occupied, a staff member can help you find another place. For a more focused activity, check out what's going on in Tinker Theater.
We have free to use sensory kits available at the welcome desk, provided by the Center for Autism and Related Disorders. These include noise canceling headphones and different fidgets. Just give the staff member your ID for the bag, and trade it back when you leave.
Sensory Events
We will host quarterly sensory events for families with children with special needs. Sponsored by Enable Savings Plan, this is a quieter time in the Museum when lights are lower, the music is off, and no overhead announcements are made. We will have printed schedules with information on quiet rooms and any special activities, along with sensory kits for use during the event (includes noise canceling headphones and fidgets).
Sensory events are being tentatively planned for the remainder 2020 and will be announced via Facebook and email.  As with all events, these will be subject to change depending on local health directives and circumstances.
Compromised Health
Twice a year the museum is open for our Adventures for the Immunocompromised event. All children deserve the chance to play in a safe, friendly environment with their parents, siblings and other children. Adventures is a free and exclusive event, supported by May L Flanagan Foundation, developed to serve families with children whose health has been compromised by a medical condition, specialized surgical procedures or medical treatments. This special event is closed to the general public to allow families who otherwise may not be able to visit the Museum an opportunity to enjoy a special night together away from the home or hospital.
Due to the ongoing pandemic, we will not be hosting these in 2020.
For more information, you may contact mhaase@lincolnchildrensmuseum.org.
Social Story
A social story is a tool that can help a child know what to expect in a new situation. This story, comprised of narrative text and photos, can help your child prepare for an upcoming visit to the museum. You can share this story with your child once, or many times, before your next visit. You can use the whole story, or select portions of the story related to specific exhibits. Use this tool flexibly in a way that works best for your child.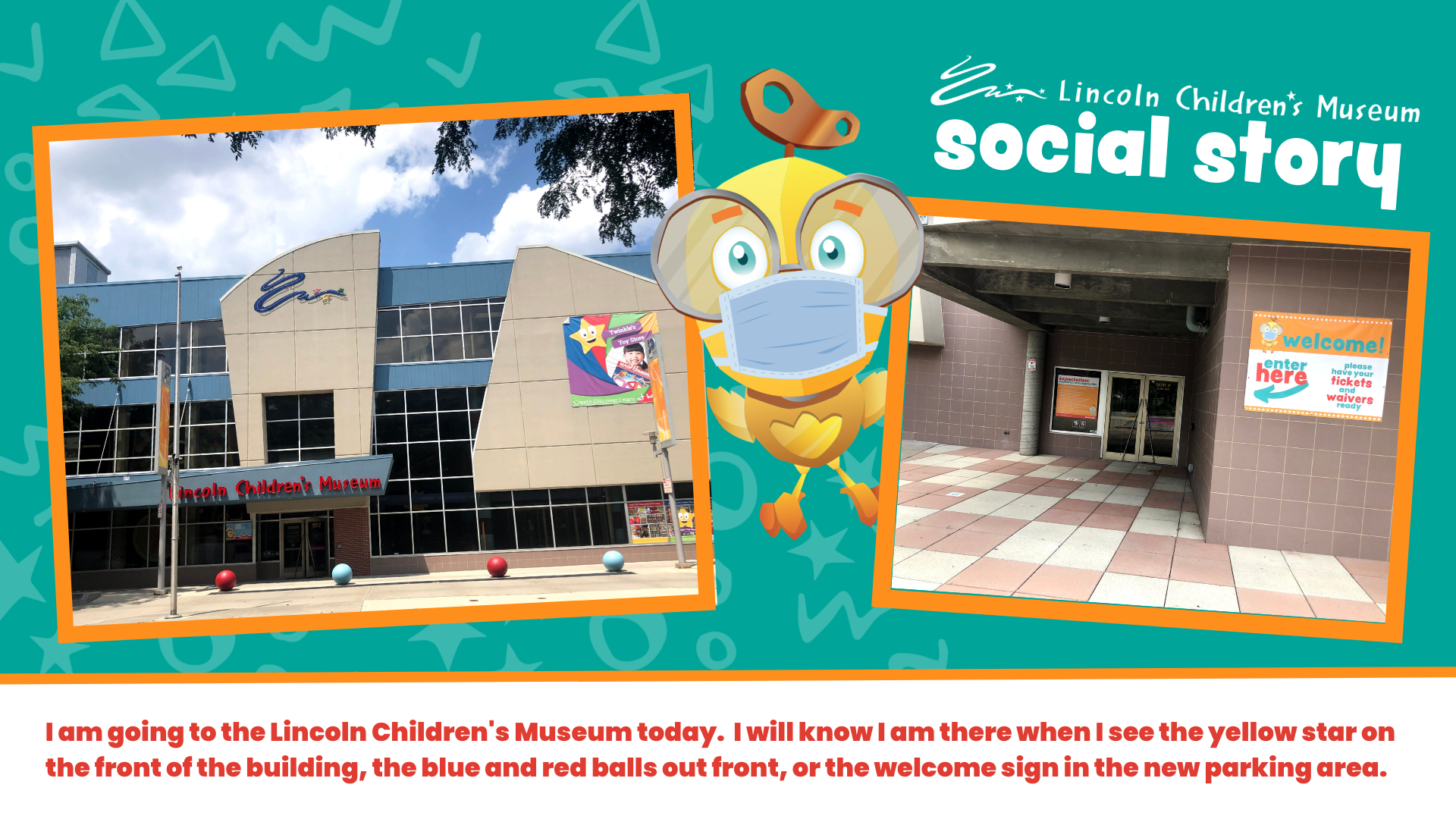 Thank You!
Our original social story was created in 2019 with the help of several bighearted students and faculty at the University of Nebraska-Lincoln...a HUGE thank you to them for kick-starting our social story writing journeys.
For families that have utilized our social story in the past, you will now see a modified version for COVID.  Working with Cris Petersen of Sassy Mama for Autism we've provided some unique updates that we hope are helpful in preparing for your visit to the museum during these times.
For more information on what we offer here at the museum, you may email Lindsay Bartlett-Director of Community and Learning at lbartlett@lincolnchildrensmuseum.org.